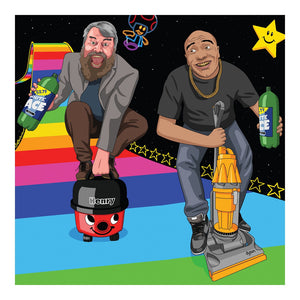 Jim'll Paint It - Hoover Racers Redux (XL Size)
Regular price
£120.00
£0.00
Unit price
per
Tax included.
Jim'll Paint It - Hoover Racers Redux
Giclee Print on Minuet Paper
Edition of 25, Signed & Numbered by the artist.
70 x 70cm
This was one of Jim'll Paint It's first and most popular requests - recently given a 2016 revamp!


"Dear Jim, Please paint me a picture of Brian Blessed riding a Henry hoover alongside D'n'B DJ Goldie on a Dyson. They are racing on the Mario Kart level Rainbow Road and are both drunk on white ace cider. Thanks, Tommy"
---