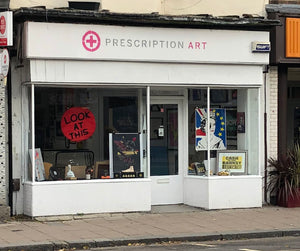 A short walk from the north lanes, we are one of Brighton's most loved and treasured art galleries. James opened the gallery in 2008, and since then he and his team have sought out the best in street, graffiti and contemporary art.  James is a well respected Banksy dealer, and will happily answer any of your Banksy queries.  Our publishing team, Prescription Editions are experts in limited print runs and would be pleased to hear artist proposals.   
---
• Euan Roberts • Prescription Editions • Print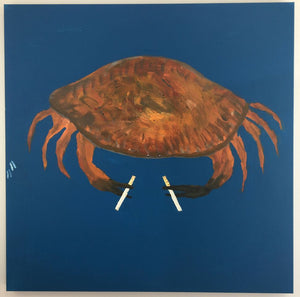 We opened our Euan Roberts exhibition last week to lots of keen art and beer drinking fans! Here are some photos from the evening.....     We were really pleased to be able to offer tasty tech beer from Lost & Found Brewery and very pleased to meet local artist celeb Chris Riddell, all amongst the life changing and affirming paintings of Euan Roberts...some life goals were definitely reached! The show is on until the 8th of June, so come down and check it out, or visit the website for all available works. We also released a new edition of his ever...
---
Hedy Lamarr, a stunning film star from the late 1930s - 1950s and as well as being beautiful and talented, she also was an inventor. Hence Pure Evil's recent print series, Hedy Lamarr, The Inventor. At the beginning of WW II, Lamarr and composer George Antheil developed a radio guidance system for Allied torpedoes, which used spread spectrum & frequency hopping technology to defeat the threat of jamming by the Axis powers. Although the US Navy did not adopt the technology until the 1960s, the principles of their work are now incorporated into modern WI-Fi and Bluetooth technology. Pure Evil continues to produce iconic and...
---
• Connor Brothers • Print • Pulp Fiction • Refuchic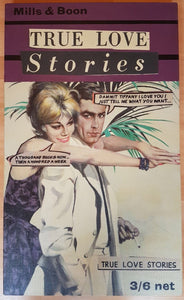 Artistic duo 'The Connor Brothers' are fast rising in popularity at the moment, check out their latest project Refuchic - in which they have placed fake magazine posters all around the UK, ridiculing celebrity culture & lack of humanity. Back here in the shop, we have six new signed Connor Brothers prints as well as two originals! The prints are £120 each and the originals are £3,750. Signed and numbered Giclee print with silkscreen varnish 41.5 x 29 cm unframed Edition of 50 - £120 each. The Connor Brothers first entered the art scene as American twins brought up within an extremist Christian...
---
• Cleon Peterson • LA Art • Original Painting • Shepard Fairey • Street Art
Sorry for abandoning this blog of late but we will try and update this on a regular basis from now on.... keep an eye over here for some occasional snippets of news! The gallery is looking great at the moment, come down and see us if you're in Brighton.  We have a couple of very special Cleon Peterson original works hanging in the gallery right now. One is a huge black & white spectacular painting across 9 panels, entitled The Practice Of Masters. The second piece is called A Struggle of Will, a 9 panel painting, in black and neon red/orange...