• Amnesty International • Charity • Irish Heart Foundation • jim'll paint it • Prescription Editions • Print
Today (Sunday 3rd April) we're releasing two Jim'll Paint It tribute prints to raise money for charity.Both prints will be available for one week only (until midnight BST on Sunday 10th April), with the edition determined by the number of prints sold in that time. The Alan Rickman print, 'Gruber Earns His 20%', imagines a different outcome to the 'Die Hard' film. (https://www.youtube.com/watch?v=W_vSWjfJJHU)"Dear Jim, I'm sure you've had thousands of these, but if you could do one of Alan Rickman, as Hans Gruber, sitting on a beach earning his god damn 20%, that'd be grand."All profits from this print will...
---
• jim'll paint it • Prescription Editions • Print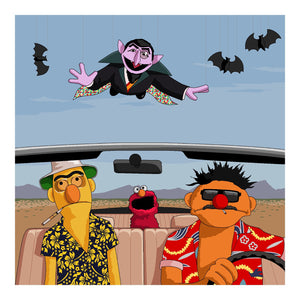 I have been neglecting this blog of late! There is too much news to report, but in summary...  We have recently moved to a new & larger shop in Brighton... you can find us at:Prescription Art83 London RoadBrightonBN1 4JFWe have just released a new by Jim'll Paint It:We've previously released Jim'll Paint It's work under his '30 Squared' alias... but are now proud to release the first ever signed limited edition print released under his more famous pseudonym.As usual the image started with a fan request:"Hey Jim. Please could you paint Bert and Ernie taking a trip to Vegas ala Fear...