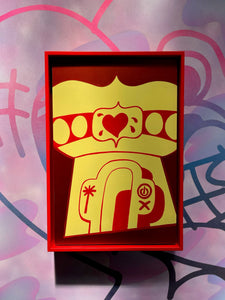 Sickboy - Temple '21: Originals Series (Portrait) (Artist Proof #3)
Regular price
£600.00
£0.00
Unit price
per
Tax included.
Sickboy - Temple '21: Originals Series (Landscape) (Artist Proof #3)

Original Painting on Anodised Aluminium. Tray framed by Fluorescent Smogg.

30 x 20cm

Edition of 11 (plus 2 AP's) in portrait format

Signed & tagged on the reverse.

This limited-edition release from Sickboy is a temple to the temple. A tribute to that merry, mesmeric little house of worship that the artist is best known for. And a testament to the extraordinary power of artistic symbolism.

Since 1999, Sickboy's style has evolved, his reputation has exploded. But thankfully he's stayed true to his pop-psychedelic, serotonin-promoting, red-and-yellow roots.

This small edition of the Classic Temple, hand painted onto Anodised Aluminium, comes in both Landscape & Portrait. Beautifully framed in a complimentary red tray frame produced to the highest quality by Fluorescent Smogg.
---