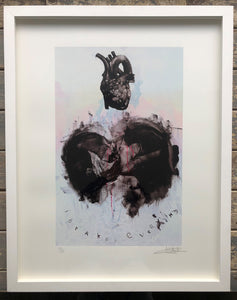 Antony Micallef - I Brake Everything (Framed)
Regular price
£650.00
£0.00
Unit price
per
Tax included.
Antony Micallef - I Brake Everything (Framed)

Silkscreen Print
Published in 2010
58 X 75cm 
Framed - 79 x 63 cm 
Edition of 150

I Brake Everything is poignant and powerful, combining exquisite draughtsmanship with a dark and passionate melancholy. At first glance the piece seems to suggest a final goodbye, in a kiss between two figures, one healthy, one skeletal and distorted. However Antony's choice of the word 'brake' instead of 'break', suggests a slowing down of illness; this kiss is in fact the kiss of life.

Published by CCA Galleries, printed at Coriander Studio. 20 colours and satin glaze.



---